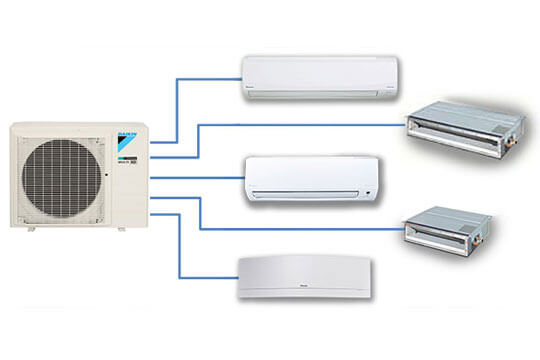 Winter is almost here and it's time to ensure your heating systems are working just fine and will be able to keep you warm and cosy for the next few months. It's also a good time to start looking at potential upgrades that you can invest in to improve the heating system that you already have at home.
A multi split heating system is one such upgrade you must consider if you live a big house or work in a big office, with multiple levels and separate rooms that need to be heated up. The multi split heating system is also most ideal if you need to heat different rooms up and different temperatures, with the option to adjust temperatures individually.
A multi-split system essentially makes use of one outdoor condensing unit, and multiple indoor units based on air conditioning requirements. This system is preferred over its counterparts since it provides the same performance but consumes less power and saves more space. The use of different indoor units also means that you can temperature control each unit differently, which lets you decide which areas you would like to heat up. Additionally, you can also choose which unit type would you like to install, ranging from a wall mounted one to a ducted unit, for example.
The multi-split system is also a good option for apartments and homes that have limited space in the roof and floor. They are relatively easier to set up too, requiring fewer modifications to a given space. Since the multiple indoor units are connected to just one outdoor unit, it allows for greater installation flexibility. Additional flexibility with piping length ensures you can install units across different floors with ease. Such flexibility is beneficial when you're installing a system in a big residential or commercial space .
Looking to install a robust heating system for your home this winter? Get in touch with Dale Air today to discuss heating solutions that will perfectly suit your budget and requirements. With a long, hot summer just around the corner get in touch with us today to see what we can do for you.