Ducted Reverse Cycle Air Conditioning -
Year round climate control and comfort
The ultimate in total climate comfort control, a fully ducted reverse cycle air conditioner can condition your entire home from one central thermostat. This gives you the convenience to cool and heat your home all year round just the way you like it.
The ducted reverse cycle air conditioning system consists of an indoor and outdoor unit. The indoor unit is normally located within the roof space, and it is connected to a series of vents within the house through ductwork. Cool air is then circulated to all rooms.
How does it work? The reverse cycle system works by removing heat from within the house to the outdoors during summer. It then uses a refrigerant to cool the building, and works on the air inside the building to ensure it is climate controlled. As its name suggests, the system is able to work in reverse during winter, transferring the available heat in the air outside to inside the home, and using the refrigerant to warm the house.
Ducted reverse cycle systems are the perfect solution if you want to cool your entire home.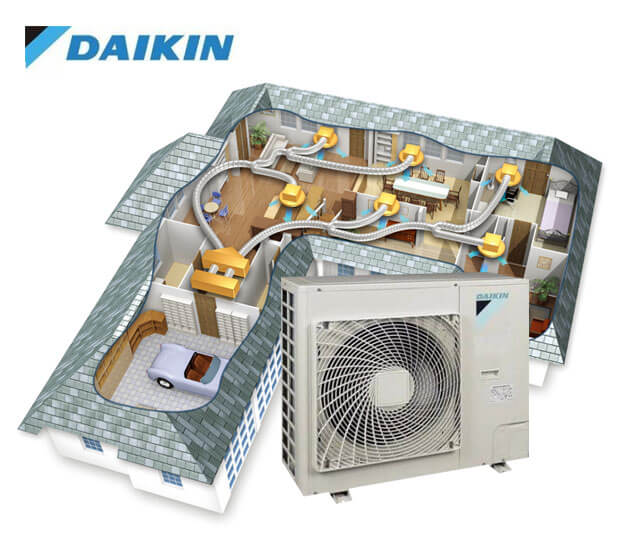 Why Ducted Reverse Cycle?
Zoning system
Ducted reverse cycle systems can be enhanced with zoning, a system that divides your house into different air conditioning zones to let you vary the airflow throughout your home. Through this, you can choose to turn on the air conditioning for only one part of the house, for example, the bedroom, rather than the whole house.
Cost-effective and economical
Although installation may be expensive, the bright side about the reverse cycle system is that you only pay once for a unit that essentially works the whole year round - it cools in summer and warms in winter! Plus, due to the zoning system, you won't have to cool areas you don't need, which means you actually save money on energy costs in the long run too.
Adaptable and efficient
Many modern reverse cycle air conditioning units come with thermostats and advanced inverter technology, allowing them to adapt to the temperature and condition of the room. The inverter technology is one of the most energy efficient ways to cool your home using electricity.
Climate control
The reverse cycle system uses sensors to keep rooms at the targeted temperature, and is one of the most effective climate control systems. Say goodbye to rooms that constantly fluctuate between being too cold and too warm!
Less noise
Some manufacturers of reverse cycle air conditioning systems are now investing in and developing technology to reduce operating noise across their units, which means these systems are not as noisy as some of the other air conditioning options.
Aesthetically pleasing
With ducted reverse cycling air conditioners, you don't have to worry much when it comes to styling your house and rooms. As the main cooling unit is normally located in the roof space, the only things visible inside your house are the controller, the return air and discharge grilles or ceiling vents. This makes it far less visually intrusive than some of the other air conditioning systems.
At a glance - The benefits of ducted reverse cycle cooling:
▪ Cost-effective
▪ Economical
▪ Zoning system
▪ Climate control
▪ Adaptable
▪ Aesthetically pleasing
Control Your Cooling or Heating from anywhere with MyAir's E-Zone
Ezone app for smarter air conditioning control
7-inch colour touchscreen that doubles as a tablet
e-zone app for smartphones and tablets
Compatible with all major air conditioning brands
Practical, user-friendly graphics
Adjust the airflow to any room from 5 -100%
Option of temperature sensors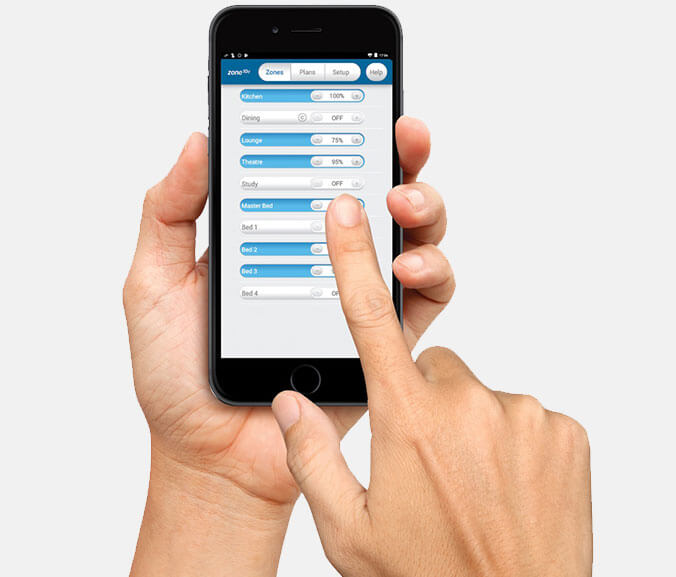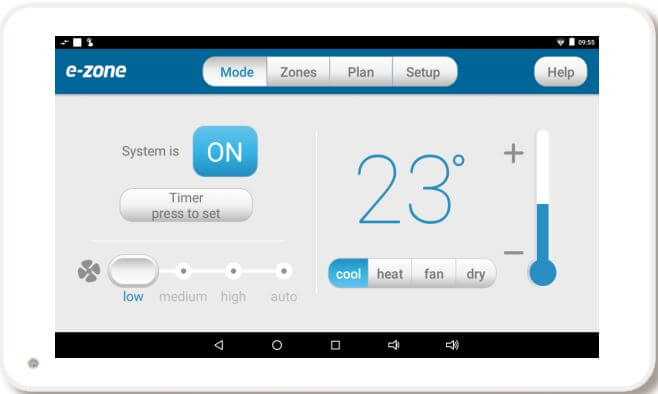 e-zone's Wall Mounted Touchscreen System
Full touchscreen 8 inch (standard size) (10 inch optional)
4g and WIFI enabled.
Designed to control not only your ducted air conditioning system but also act as a complete home hub.
Functions as an Android tablet so you can have control over Amazon Alexa or Google Assistant.
The MyAir app completely replicates the functionality of the wall mounted tablet for ease of use.
Integrates with all major brands like Daikin, Mitsubishi Electric, Fujitsu, Panasonic etc.
Learn More About e-zone's Smart Air Conditioning System
Frequently Asked Questions
Zoning, or Zone Control, are available on all ducted systems. It allows you to target specific rooms you want to cool with your ducted system, rather than cool the entire house. For example, you can choose to turn off the air conditioning for the bedroom when no one is using it, while keeping the other areas on. This is an extremely useful feature to help you save on energy usage and costs.

Up To 24 Months Interest Free Finance
Free Quote - Receive A Quote Within 24 Hours