Evaporative Cooling Melbourne
Evaporative Air Conditioning Installation, Servicing & Replacement
Get Cold This Summer With a New Evaporative Cooling System
Experience The Difference of a new Evaporative Cooling System
Many Melbourne homes utilise evaporative cooling and a common misconception is that evaporative cooling is unable to get your home cold enough during the summer heat. The reason for this, is that many people don't service their evaporative cooling systems and this makes them highly inefficient over time (see image below - a common sight amongst Melbourne homes)
The good news is, you can either service your existing unit or upgrade to the latest range of Bonaire evaporative coolers that have improved greatly over the last few years.  A new Bonaire unit will keep your whole home naturally cold with the added benefits of being a solution that's cheaper to run than a ducted reverse cycle system, whilst delivering naturally cooled healthier air into your home.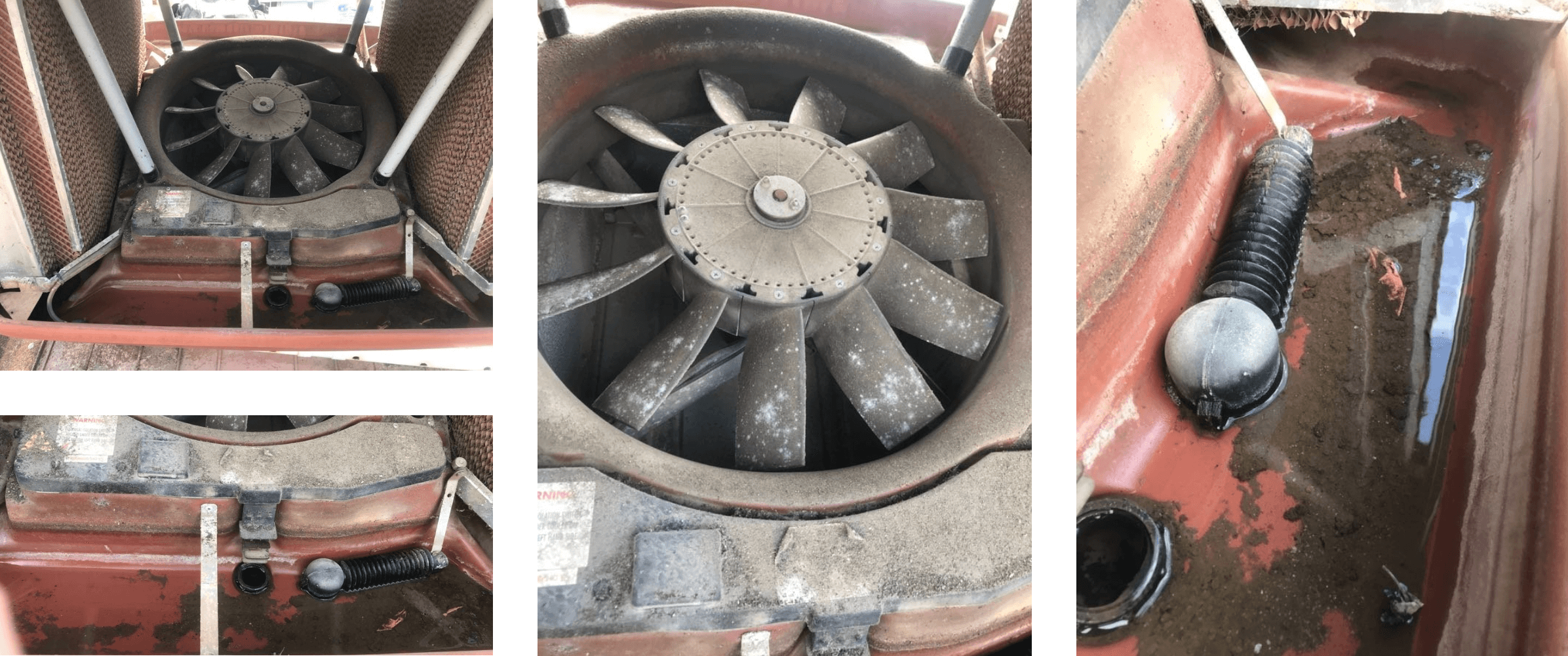 What is an Evaporative Air Conditioner?
An evaporative air conditioner is a wonderful way to cool your home. It is cost-effective, eco-friendly, and works well in dry environments like Melbourne.
Conventional air conditioning works by using air already inside of your house, passing it through a fan coil that cools it down, before delivering it back into the house. Because of this, all windows and doors have to be closed so that the cold air will not escape. You would also have to wait for the air to get cold.
On the other hand, an evaporative air conditioner comprises a central cooling unit situated on top of your roof, that is connected to a series of outlets throughout your home. The unit draws fresh air from outside through a series of moistened pads, and as the air passes through these pads, water evaporates and the heat is absorbed. The filtered and cooled air then flows through the ductwork and into your rooms, allowing you to enjoy a fresh, cooling breeze.
Evaporative air conditioners also works best in rooms that have access to open doors and windows. This is to allow the air to escape, because the cooled air inside the building is not recirculated.
The system also requires a constant source of water, and only operates well in hot, dry climates like Melbourne.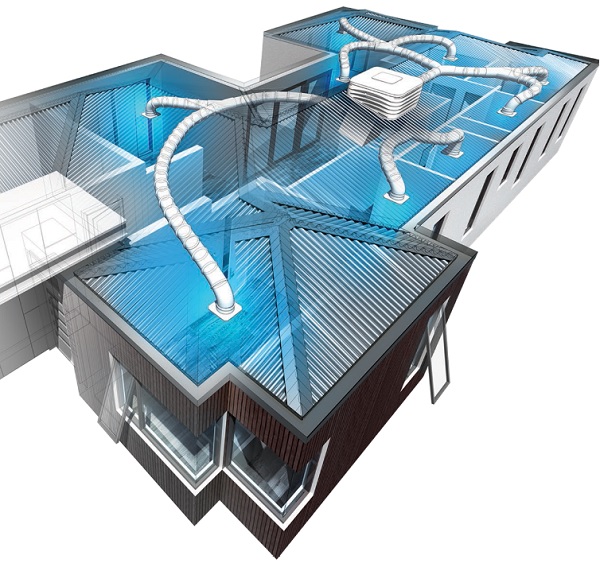 Why Choose Evaporative Air Conditioning
Cost-effective
Compared to refrigerated air conditioning, evaporative air conditioners are more cost-effective. Due to its design, the system uses significantly less power per hour, which translates to better savings on utility costs. It is up to 50% cheaper to install than comparable capacity refrigerated systems, and is also about seven times cheaper to run.
Eco-friendly
It is also eco-friendly, as evaporative coolers do not use CFCs, which have been said to affect the ozone layer. Evaporative air conditioners also uses less electricity than other forms of cooling, so it is kinder to our environment as its greenhouse gas contribution is a lot lower.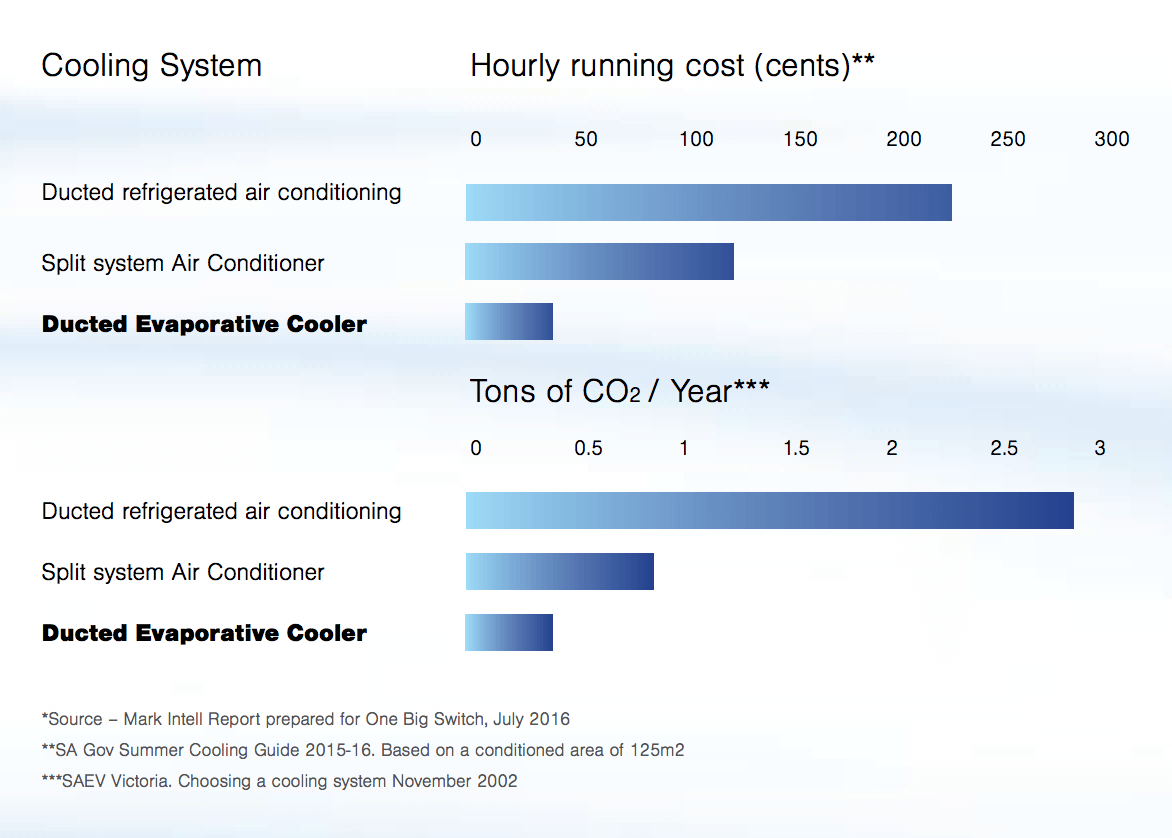 Fresh air that is not recirculated, providing an allergy-free environment
Evaporative air conditioning systems ventilate 100% fresh air, ensuring that you enjoy fresher and completely natural air. The air inside your home is not recirculated, which makes it not only a healthy way to cool your home, but also provides an allergy-free environment.
Provides cool, moist air
Traditional air conditioning systems can dehydrate your skin. An evaporative air conditioner, however, is based on a totally natural process of air cooled by water, which means it will not dry out the air, or irritate your skin, throat or eyes.
Keeps it cool even with doors open
On top of that, evaporative cooling systems keep your home cool even with your doors and windows open, leaving you free to enjoy summer in alfresco style! There is no need to lock yourself indoors to escape the heat!
At a glance - The benefits of evaporative cooling:
▪ Cost-effective
▪ Eco-friendly
▪ Lets you enjoy fresh and natural air
▪ Air inside your home is not recirculated
▪ Provides an allergy-free environment
▪ Provides cool, moist air
▪ Keeps your home cool even with doors and windows open
Bonaire Evaporative Cooling Control Options - Choose between a hand held unit or a hard hired wall-mounted unit
Both the the Navigator® remote control with humidity sensor and wall-mounted unit share the same features however the wall-mounted solution is fixed in the living area of your home.
Wireless radio frequency
Humidity Management Mode to automatically control air moisture
Able to operate from room to room
Thermostat comfort sensing from any room with an outlet
Large, clear and easy-to-read backlit LCD display • Customised operational settings
Diagnostics and error reporting
Optional controlling of multiple appliances
Easy to operate in 4 selectable operating modes
24 hour programmable start and stop times
Bonaire 4, 5 and 6 star Gas Central Heating and Bonaire Dual Cycle NB: Blue screen for cooling, orange for heating
Frequently Asked Questions
No. Evaporative air conditioning systems have much more air volume than ducted heaters. Therefore, the ducting needs to be much bigger and the outlets are placed in a different position of the room than the heating vents.
Up To 24 Months Interest Free Finance
Free Quote - Receive A Quote Within 24 Hours
Visit our Moorabbin showroom
Government Rebates Now Available