Multi Split Air Conditioner
Multi Split Air Conditioner
A flexible and convenient cooling solution for multiple rooms
Multi split air conditioning is one of the more efficient and cost-effective systems if you are looking to cool multiple rooms.
Just like split system, the multi split system has two separate units – one outside the house, and the other inside. However, the difference is that a multi split system is capable of operating two or more indoor units, with just one outdoor unit required.
Multi split air conditioners are ideal for situations where there is limited space for outdoor units or insufficient ceiling space for ducting. They also allow for individual control of the air conditioning in each room – each indoor unit can be individually controlled and set to the desired temperature, optimising comfort levels. It also offers savings on running costs, as wastage is eliminated by only cooling rooms as you need to.
Split System Special Offer
Purchase a Daikin LITE Multi Split System and enjoy a free upgrade to Daikin's Super Multi NX model. Learn more about Daikin's Multi NX model below -
The multi split system uses Inverter Technology, meaning the inverter adjusts the power to suit your requirements. Simply put – the inverter continuously adjusts its heating and cooling output in accordance with your desired temperature. Once reached, it is constantly maintained, keeping you nice and comfortable, and saving you money at the same time.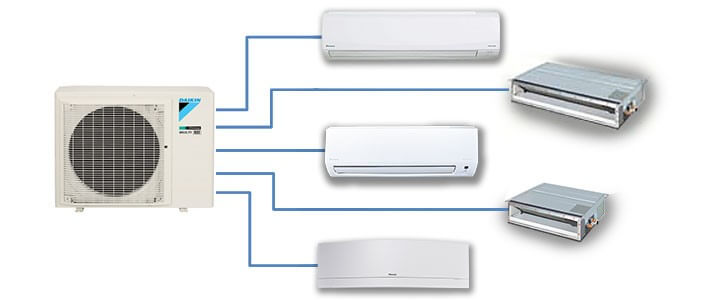 Why Multi Split System?
Economical
Multi split air conditioning systems are more affordable to purchase and install, compared to ducted air conditioning. Its ability to allow each indoor units to be individually controlled also helps you save on running costs, lowering your power bills.
Energy efficiency
By operating multiple indoor units from one external air compressor, multi split air conditioning is among the most energy efficient air conditioners available. Its energy saving settings also helps to reduce power. Being able to have multiple indoor units, you will also have the ability to choose the right indoor device to suit each room, to ensure that you're not wasting power. For example, a unit that is too small for a big room, or a device that is too big for a small room, will use more power every time you turn it on.
Space-saving
The multi split system is a good choice for small homes, apartments, townhouses and other buildings with limited outdoor space, as you can have multiple indoor devices without installing several outdoor units.
Easy installation
Unlike traditional HVAC units, a multi split system is easier to install as it does not require the use of long and expensive ducts. It is designed specifically for individual interior areas, making it ideal for houses without ductwork, or for rooms that do not have ducting.
Full control
Multi split air conditioning systems offer you full control, in that you can select the rooms you want to air condition. Not only that, but you can also run and control each indoor unit independently. For instance, you can choose to turn on the unit in the living area but not the bedroom, or you can set the nursery to be slightly colder than the dining area.
Flexible
The multi split system is amazingly flexible, as it allows you to choose the right indoor unit for each room of your house. You can go for smaller and quieter air conditioners for the bedrooms, and higher capacity ones for larger areas, all connected to just one outside unit. You can even choose to add in more indoor air outlets later on if needed.
At a glance – The benefits of multi split systems cooling:
▪ Economical
▪ Energy efficient
▪ Space-saving
▪ Easy installation
▪ Full control
▪ Flexible
Daikin Super Multi NX - Key Features
Wide variety of indoor units available means it's easy to select a model that matches your home décor.
Super Multi NX (R32) allows you to control indoor units individually. This means you have total control over temperature and can ensure your system only cools or heats the rooms you are using.
R32 refrigerant to deliver more efficient cooling and heating with less risk of harm to the environment.
The Daikin '5-Year Parts and Labour' warranty applies to all Daikin split, multi-split and ducted air conditioners professionally installed in domestic premises in Australia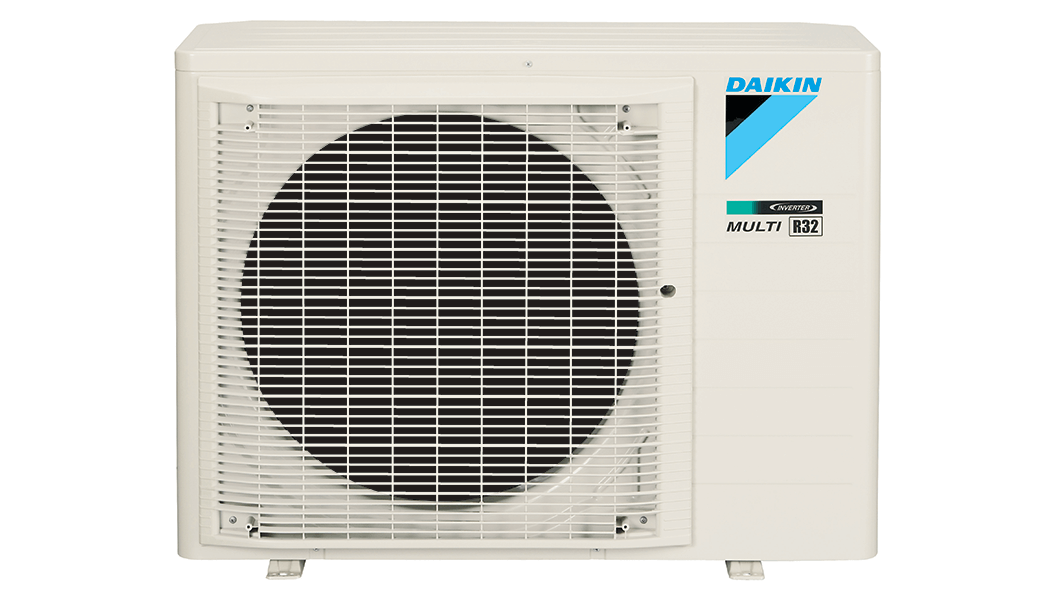 Learn how to select the right air conditioning system for you
Frequently Asked Questions
The multi split system uses one outdoor unit that is connected to several indoor units. It is an economical way to go as you only pay to run one condensing unit for all rooms.
Up To 24 Months Interest Free Finance
Free Quote - Receive A Quote Within 24 Hours
Visit our Moorabbin showroom
Government Rebates Now Available
Government Rebates Available