Call us today to discuss Vic Government incentives on reverse cycling heating & cooling. Reduce your power bills this Spring!
Heating & Cooling System Sales, Installations & Repairs
Government Rebates Now Available on Ducted Reverse Cycle Systems
We will save you money! Reduce Your Power Bills Today!
The team at Dale Air offer a comprehensive range of heating & cooling solutions for your family home. We have over 30 years experience in installing, repairing & replacing Gas Ducted Heating, Evaporative Cooling & Reverse Cycle Systems. We are open 6 days a week, offer all leading brands and service Melbourne wide. Browse our solutions below and enquire online or call 1300 301 665. As of July 2021, Dale Air is an accredited supplier of the Vic Government's Heating & Cooling Upgrades program.
Ducted Reverse Cycle Systems
Government Rebates Now Available
Dale Air is an accredited supplier under the Victorian energy upgrade program. Rebates are now available on Ducted Reverse Cycle Systems, Split Systems & more.
Enjoy year round comfort with temperature controlled zoning and optional smart control devices whilst also reducing your power bills. Call our team today to discuss.
Spring 2023 Special Offers
Government Rebates Now Available On Ducted Reverse Cycle Systems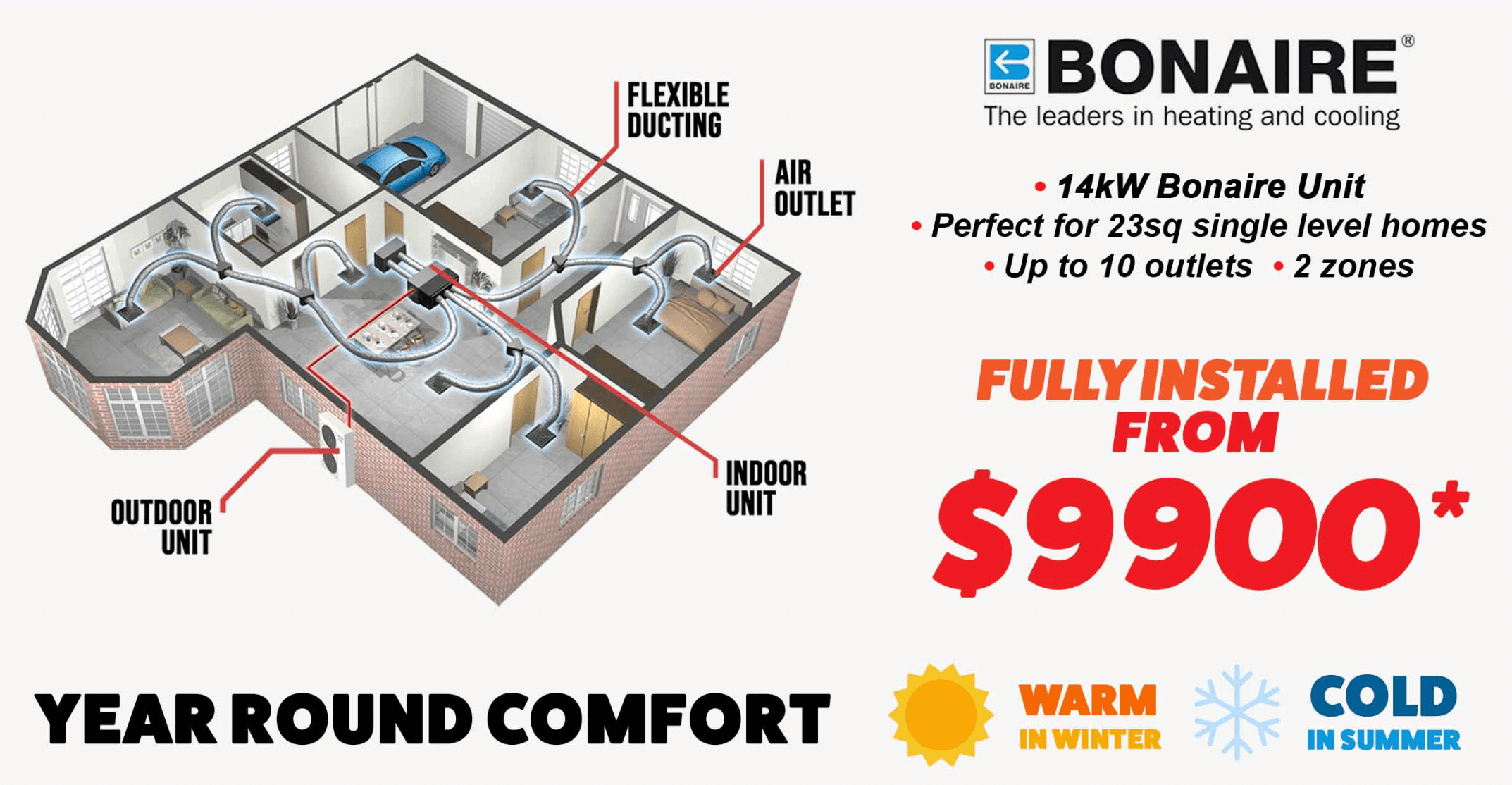 Melbourne's No.1 Gas Ducted Heating Replacement Offer!

Install Central Gas Heating And Claim Up To $750 Cashback! Australian Gas Networks Promotional Offer - Melbourne Eastern Suburbs
Natural Gas Rebate Campaign Period: 1 January 2023 to 31 December 2023. Claiming deadlines apply.
No rebate will be paid to appliance installations outside of the current promotion period, unless the installation meets the Grace Period T&C of the 2022 Natural Gas Rebate Campaign. Please contact AGN's Natural Gas Promotions Team for clarification.
This offer applies to existing homes (established builds) that are connected to the natural gas distribution network owned by Australian Gas Networks (AGN). You can use this postcode list to check eligibility.
There are some postcodes that AGN only partially owns, so customers in those areas should confirm address eligibility with AGN's Customer Service Team on 1300 001 001 (Option 3). New builds are excluded from this offer. Transportable or demountable homes are classified as 'new build properties'.
Offer is for new installations only, not for replacements (e.g. installing a natural gas instantaneous/continuous flow hot water system in place of a natural gas storage hot water system is considered a replacement).
Upgrade To A Smart AC/Heating System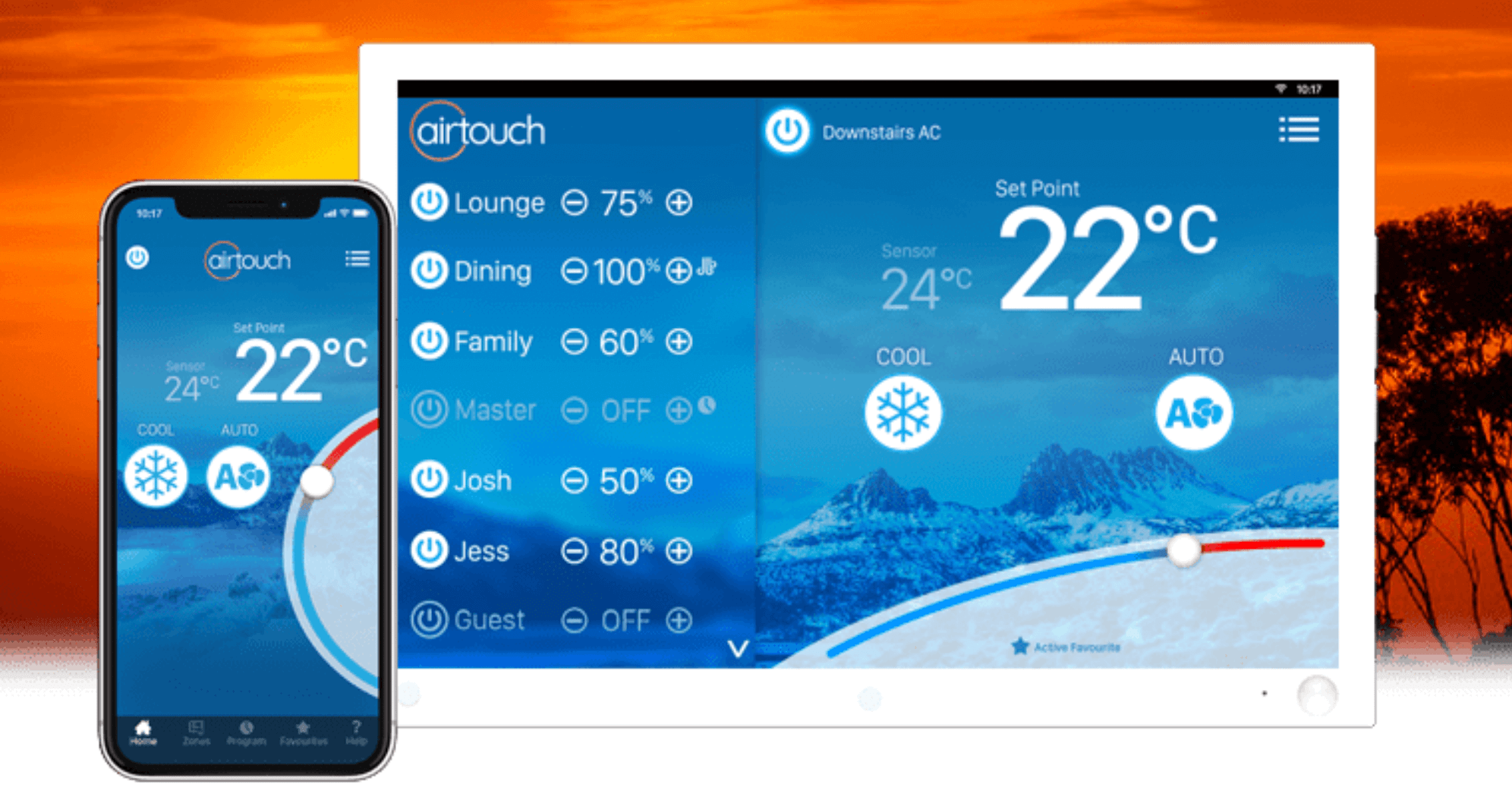 Enhance your air conditioning with AirTouch 5, the controller to take care of your climate control from a touch screen, phone or tablet.
Save Energy, Save Money - With zoning, you can reduce the size of the AC unit you need and save on running costs.
More Convenience - Control multiple AC systems and stay informed about your home climate.
Better Comfort for Everyone - Your favourite temperature anywhere at home, anytime with the added benefit of app and voice control.*
MyAir - Control Your Air-Conditioning & More from anywhere
Create your own personalised air conditioning experience with the MyAir app via any IOS or Android smart device. The MyAir app functions as a remote control giving you more control over how you want to use the air conditioner and where you use it.
Allows for up to 10 zones so each room can be its own zone and temperature can be controlled via MyAir app or wall mounted tablet.
No limits on app downloads, meaning the whole family can access MyAir via the smartphone app.
MyAir colour touchscreen tablet is designed to be a complete home hub.
AC with more precise control - Adjust airflow into any room in 5% increments.
Talk to the Dale Air sales team today about MyAir and enjoy smarter air this Summer.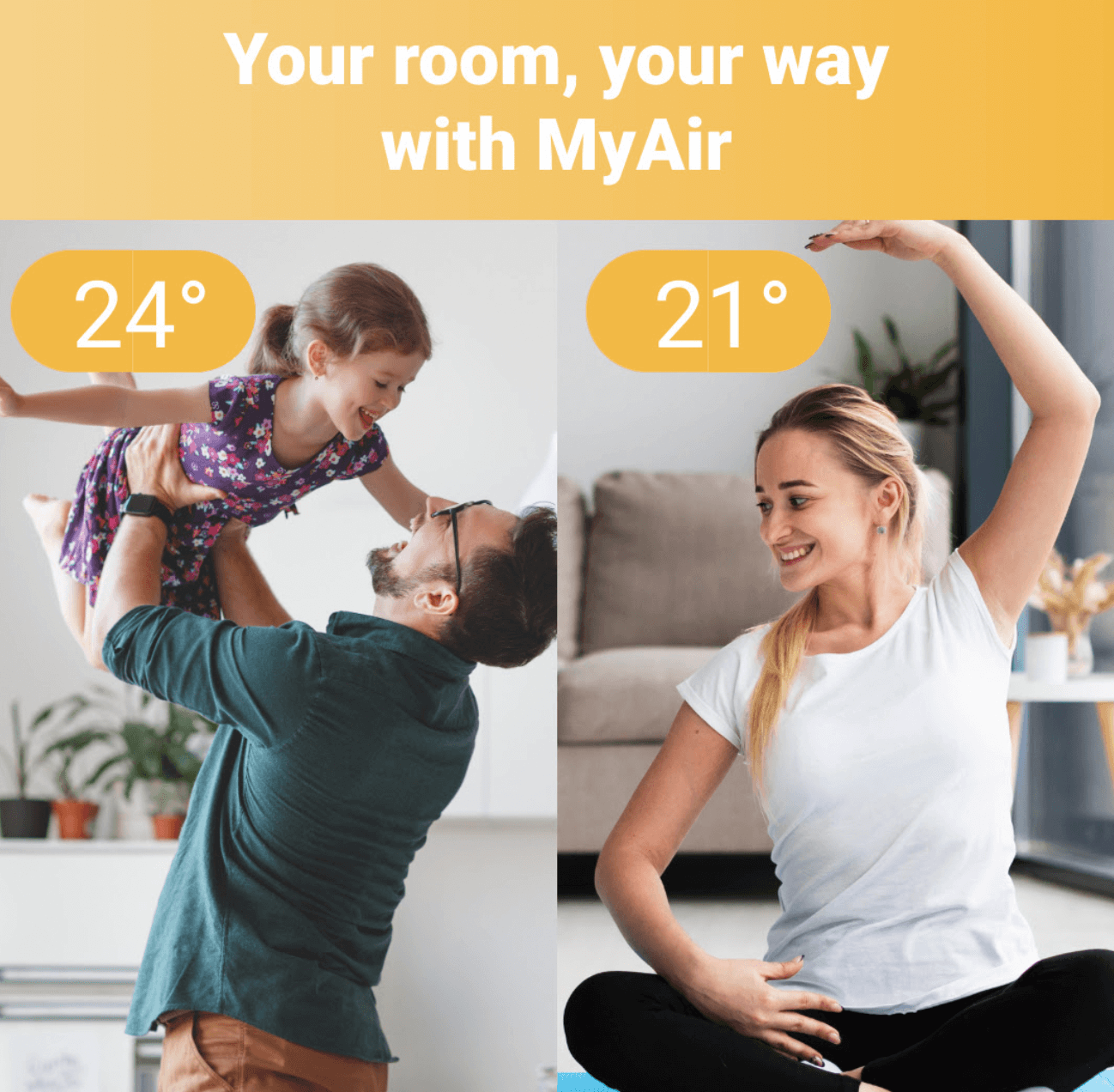 Why upgrade to reverse cycle cooling & heating
The Victorian Government has recently announced new changes which means certain Ducted Reverse Cycle Systems are now eligible for rebates under the Victorian Energy Upgrade Program. 
▪ Electric Year Round Comfort 
▪ Cost-effective
▪ Temperature controlled zoning
▪ Control your home temperature from anywhere with My Air or AirTouch5 smart control systems.
▪ Government Rebates now available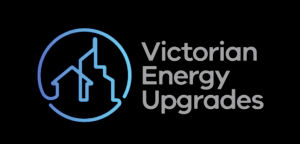 Our friendly and fully qualified team will assess your house prior to the installation, to ensure the whole process proceeds smoothly. You will also be guided through the plan step by step, so that you know exactly what we will be doing.
Get an obligation - free quote
Quick response – within 24 hours
24 months interest free finance
Approved supplier heating & cooling upgrade program
All warranty and paperwork supplied
What people are saying about Dale Air
Huge shout out to Dale Air for the fantastic service rendered. Starting with Jacob organizing a competitive quote to Alan and Amin installing the new ducted heater, followed up with Paul installing the return filter grill, and organizing the RF controllers, all in good time.....All around great professional service, true to their word and great workmanship. Thanks once again guys, will definitely recommend Dale Air to my family and friends.
Conrad & Anita D'Silva
"I just wanted to say a big THANK YOU for all the help you have given me. Your professional service has been excellent."
Argyro Pantelios, East Bentleigh
"The presale process with Patrick was wonderful. Very informative, upfront, thorough and friendly. Quote price was very reasonable too. Even though the supplier has delayed their delivery, pushing my installation back, the team were apologetic and followed up with me as promised to update me on installation. Sounds like a small thing but there are many places out there that have forgotten what good customer service is. Dale Air is one of the good ones!"
Amanda Shilkin
"We are very happy with our experience with Dale Air! Patrick came here and gave us a quote, he was very professional, efficient and friendly. The two gentleman who installed the unit for us came in on time, did the work and cleaned up our floor before they left. The price is also very reasonable (1/3 cheaper than our previous quote from another company plus a call out fee). We are very happy, will recommend to my friends and family!"
Rachelle Wang
Recently had hydronic heating installed and can say that my experience was above expectations. I had dealt with Alex who was friendly and made everything so easy. Rob and his installation team did an excellent job considering it would not have been easy, due to it being an older solid brick home. Thanks Dale Air awesome job. Will recommend to others!!
Daniel Salazar
"Great customer service. We got the quote and price was reasonable. We wanted to install an add-on cooling and Dale air gave us the best price. Whole job was replacing all the duct work and fixing new outlets with indoor and outdoor units. Installation was pretty smooth and they did everything within one day. I was really happy with the cooling and I also tried the heater in a cold morning. System was pretty good and I don't hesitate to recommend Dale air to anyone."
Yasith Perera
"I recently got Refrigerated Cooling and heating installed in my new property by Dale Air, and I'm very happy with their work - especially the customer service offered by Jacob. He went above and beyond. Will definitely recommend."
Jonathan Pravin
"The initial air conditioner assessment was detailed and clearly explained. Communication from the office administrator Janine, was also regular and prompt throughout. Installation of the air conditioner and condenser was complex but Jackson who installed the units, was brilliant during the entire process. He dealt with all challenges at hand efficiently and professionally. I could not have been more pleased with the end result."
Greta Clogan 
"Recently have a replacement of ducted heater. Very smooth and efficient from quoting stage to final stage. Very happy with the outcome and competitive price. Dealt with Jacob right from the beginning and would highly recommend Dale Air to anyone needing cooling or heating requirement at their place."
Maleena Yun
"Our 30 year old Brivis Buffalo needed replacement. Steve explained the options available, and the differences between them, which helped us choose the right one to our needs. He promptly arranged for the job so that we did not have to go without a heater for a long time in this cold Melbourne winter. The guys who came for the installation did their job professionally and explained things well before they left. It is good to go with a reputed dealer like DaleAir to have just one point of contact if things go awry (hopefully it doesn't but you never know).
We would surely recommend them to others."
Devang Mehta
"We have done few survey and finally manage to get Dale Air Dingley to change our old Bonaire Ducting Heating today. Waiting time for installation just less than 2 weeks and today the technician guys have done a brilliant job and am happy with the work quality. Will consider to change the ducting cooling to 6 star energy during coming summer with Dale Air Dingley."
Mak Chin Win 
Up To 24 Months Interest Free Finance
Free Quote - Receive A Quote Within 24 Hours
Visit our Moorabbin showroom
Government Rebates Available
Zip now, pay later. Pay in 4. Interest free.