Winter Is Here - Reduce Your Heating Bills By Up To 50%*
Ask us how by calling us today. 
Heating & Cooling System Sales, Installations & Repairs
The team at Dale Air offer a comprehensive range of heating & cooling solutions for your family home. We have over 30 years experience in installing, repairing & replacing Gas Ducted Heating, Evaporative Cooling & Reverse Cycle Systems. We are open 6 days a week, offer all leading brands and service Melbourne wide. Browse our solutions below and enquire online or call 1300 301 665. As of July 2021, Dale Air is an accredited supplier of the Vic Government's Heating & Cooling Upgrades program.
Heating & Cooling Special Offers
Melbourne's Best Gas Ducted Heating Replacement Offer!

Special Offer - Daikin Ducted Refrigerated Air Conditioning

Home Heating and Cooling Upgrades Program
- Receive a $1,000 rebate from Solar Victoria on the cost of a new split system reverse cycle air conditioner, this includes single and multi-head units. Dale Air offers systems from leading brands including Mitsubishi Electric & Bonaire. 
- $200 rebate on the cost of decommissioning your outdated gas heater when it is being replaced by a new split system air conditioner.
- $500 towards the cost of upgrading your switchboard (if an upgrade is required to install the rebated reverse-cycle air conditioner).
Call Dale Air today on 1300 301 665 or fill out our contact form below to see if you are eligible to receive a $1700 rebate on your new split system air-conditioner unit & installation.
MyAir - Control Your Air-Conditioning & More from anywhere
Create your own personalised air conditioning experience with the MyAir app via any IOS or Android smart device. The MyAir app functions as a remote control giving you more control over how you want to use the air conditioner and where you use it.
Allows for up to 10 zones so each room can be its own zone and temperature can be controlled via MyAir app or wall mounted tablet.
No limits on app downloads, meaning the whole family can access MyAir via the smartphone app.
MyAir colour touchscreen tablet is designed to be a complete home hub.
AC with more precise control - Adjust airflow into any room in 5% increments.
Talk to the Dale Air sales team today about MyAir and enjoy smarter air this Summer.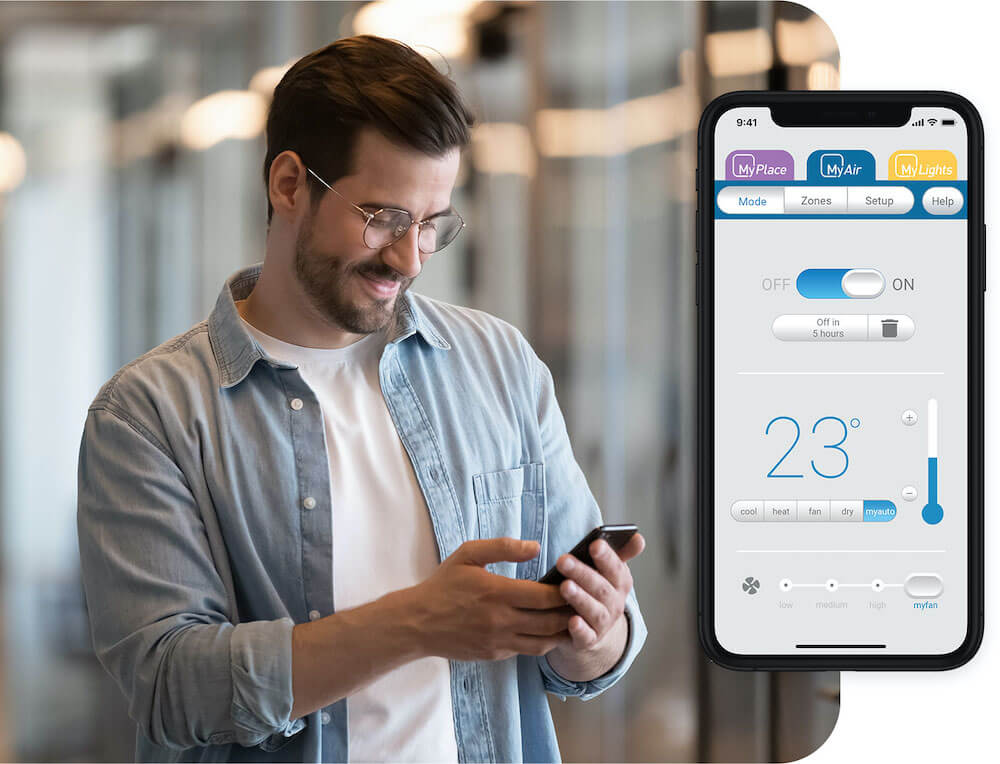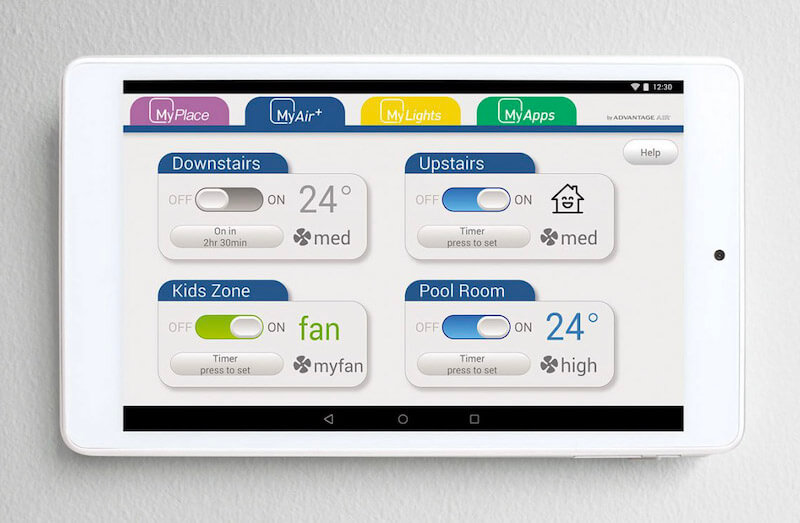 Our friendly and fully qualified team will assess your house prior to the installation, to ensure the whole process proceeds smoothly. You will also be guided through the plan step by step, so that you know exactly what we will be doing.
Get an obligation - free quote
Quick response – within 24 hours
24 months interest free finance
Open 6 days a week
All warranty and paperwork supplied
▪ Approved supplier heating & cooling upgrade program
What people are saying about Dale Air
"I just wanted to say a big THANK YOU for all the help you have given me. Your professional service has been excellent."
Argyro Pantelios, East Bentleigh
"The presale process with Patrick was wonderful. Very informative, upfront, thorough and friendly. Quote price was very reasonable too. Even though the supplier has delayed their delivery, pushing my installation back, the team were apologetic and followed up with me as promised to update me on installation. Sounds like a small thing but there are many places out there that have forgotten what good customer service is. Dale Air is one of the good ones!"
Amanda Shilkin
Recently had hydronic heating installed and can say that my experience was above expectations. I had dealt with Alex who was friendly and made everything so easy. Rob and his installation team did an excellent job considering it would not have been easy, due to it being an older solid brick home. Thanks Dale Air awesome job. Will recommend to others!!
Daniel Salazar
Up To 24 Months Interest Free Finance
Free Quote - Receive A Quote Within 24 Hours
Home Heating and Cooling Upgrades Program
Zip now, pay later. Pay in 4. Interest free.