Dale Air – melbourne's Gas Ducted Heating Installation & Replacement Experts  – 1300 301 665 
Most people do not give their ducted gas heating systems much thought after the initial installation, perhaps expecting the heaters to last forever. However, like most other household appliances, ducted gas heaters do have a lifespan.
Old gas heaters may have issues that are hard to fix or parts that are hard to find. Or worse, they may present health risks such as carbon monoxide poisoning to you and your family.
So, how long does a ducted gas heater last?
In general, a ducted gas heating system that is well maintained can probably last from 10 to 20 years, with an average lifespan of 15 years. However, there are several factors that can affect the lifespan of these heaters:
Quality
A high quality heating system will definitely last longer than a lower quality one. It is recommended that you purchase your heating system from reputable brands in the market, as these usually have a good track record with product quality. You should also check if your ducted heating system comes with a manufacturer's warranty of 5 or more years.
Model
Some older ducted heater models have heavy gauge metal heat exchangers. These are very durable and can last as long as 30 years. However, these older models are very inefficient. Most modern models are now equipped with steel heat exchangers that are constructed with aluminized or stainless metal. These are much more efficient, and, although less durable than the older models, they can still last for about 15 to 20 years if properly maintained.
Maintenance
One way to keep your ducted heater lasting longer is to have regular maintenance done by a qualified technician. The technician will be able to check that all components are running smoothly and fix any issues before they escalate into bigger problems. Return air filters should also be cleaned regularly to maintain the unit's efficiency and prolong its lifespan.
When should you replace your ducted gas heating unit?
No matter how well you maintain your heater and prolong its lifespan, there will come a time when you need to replace your unit.
Here are some signs you can look out for to know if you should buy a new heater:
Unit is older than 15 years
Any ducted gas heating unit that is older than 15 years should be replaced, especially if it is not well maintained. Older models are not as efficient as newer models, plus they tend to get more problems that may be harder and more expensive to fix as the years go by.
Rising frequency of repairs
If you find that your heating system is breaking down all the time and the technician is at your house way too often to look at yet another issue with your heater, then it is probably worth changing or upgrading the system. A new unit, although expensive upfront, will ultimately save you the mounting repair bills as well as the inconveniences of a problematic heater.
High energy bills
An old heating system that is not as energy efficient as it should be, means higher gas or electricity bills for you. If you've been noticing an uptrend in your bills even though there has not been much change in your heater usage, consider purchasing a new unit. With an upgrade to a higher efficiency model, you will definitely see a substantial reduction in your energy bills.
New, energy efficient ducted gas heaters in Melbourne
 If your ducted gas heating system ticks all the boxes above, then it is time for you to switch over.
At Dale Air, we will help you choose a new heater that suits your budget and requirement. Plus, being an Accredited Provider under the Victorian Energy Upgrades program, we are able to help you get rebates when you change your old heaters to new high efficiency models.
Autumn/Winter 2021 – Gas Ducted Heating Replacement Special Offer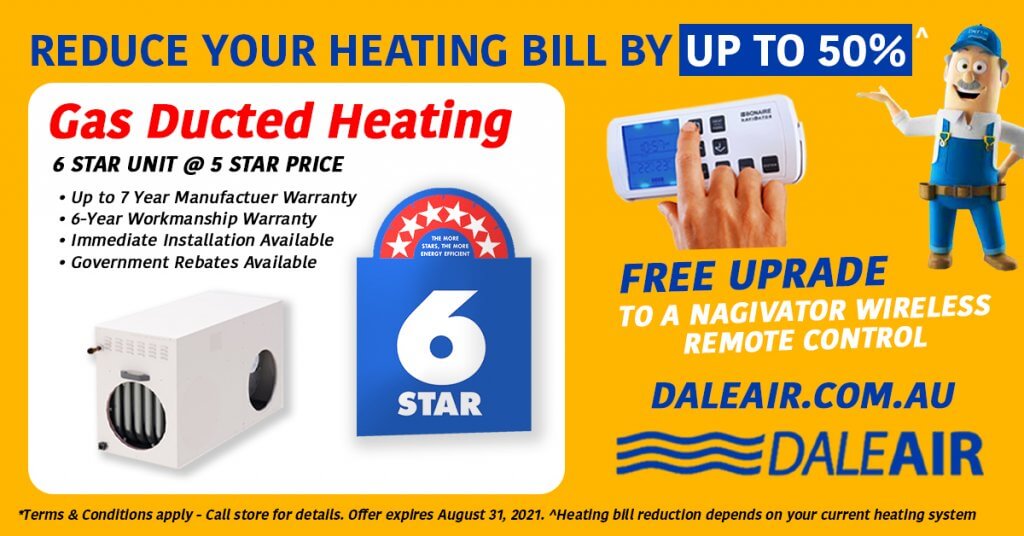 Get in touch with us at 1300 301 665 to find out more.