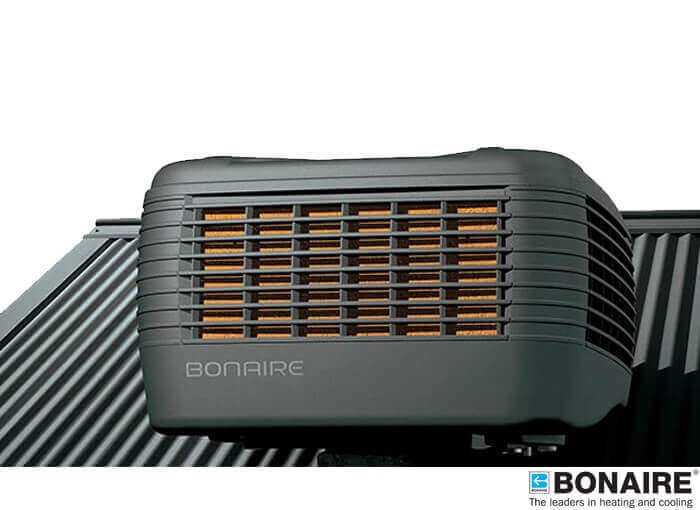 Dale Air – Melbourne's Bonaire Evaporative Cooling Installation & Servicing Experts – 1300 301 665
As one of the leading manufacturers of evaporative coolers in Australia, Bonaire has been providing homes with top quality air conditioning for more than 60 years.
All Bonaire products are manufactured in their factory in Adelaide, and their coolers have been specifically designed and made with Australia's harsh weather in mind, giving homes effective and efficient cooling during the hotter months.
Bonaire products are globally recognised for their quality, durability and reliability, with the brand now available in many countries around the world.
The range of Bonaire evaporative coolers:
Bonaire Pinnacle
The Bonaire Pinnacle uses the latest evaporative cooling technology to provide efficient cooling at a considerably lower running cost compared to standard coolers. With some of the most advanced operational features, this is definitely an evaporative cooler that stands out from the rest.
Features include:
Innovative ImPress Motor Technology
The ImPress motor used in the Bonaire Pinnacle utilises axial flux motor technology to deliver amazing energy savings.
Advanced Aerowing Fan Design
The Bonaire Aerowing fan is designed with Bonaire Vortex Generators on top of each fan blade, enabling the fan to achieve more airflow and less noise.
Bonaire Air Ioniser
With the Air Ioniser, the Bonaire Pinnacle is able to purify the air before it is discharged into your home.
Filtercool Filter Pads
The Bonaire Pinnacle provides optimum cooling performance by utilising super thick Filtercool 120mm filter pads.
Water Management System
A water quality salinity sensor will alert you when the water in the cooler needs to be replaced, ensuring efficient unit operation and prevents potential excessive calcium build-up.
Solar Enhanced Cooling
The Pinnacle cooler is able to work with an optional solar panel kit, allowing you to operate your cooling unit in solar mode on a lower fan speed to save on costs.Bonaire Integra II
The Bonaire Integra II is a premium choice in the range, enjoying many of the Bonaire Pinnacle features, including the same stylish cabinet design, super thick 120mm Filtercool filter pads, and the Bonaire Aerowing fan.
Other features include:
Bonaire Aquamiser
This device is designed to manage the water quality in your cooler and minimise water usage while still ensuring that the system has sufficient water for efficient operation.
Bonaire Maxicooler
The Bonaire Maxicooler extra air units allows the Integra to cool much larger homes, so you do not need to get two evaporative cooling units.
The Enviroseal Duct Shutter
Useful during the colder months when the unit is not in use, the duct shutter keeps warm air in and draughts out.
Bonaire Summer Breeze
The Bonaire Summer Breeze is designed to be installed on a standard sized dropper duct, making it a quick easy changeover for old evaporative coolers. With an injected moulded polymer cabinet construction and a sloping base thank, the Summer Breeze is the best value for money choice. It comes with the Bonaire Aquamiser, and is available in three colours: Charcoal, Terracotta Red and Beige.
Other features include:
The Envirowing Fan
Designed for maximum efficiency and optimum performance, this injection moulded fan delivers more cool air to your home.
Greater Airflow
By drawing air evenly over all four Filtercool pads, the Bonaire Summer Breeze is able to maintain optimal airflow performance.
To learn more about the Bonaire brand click here