Installation & Replacement - Melbourne
     Ducted Gas Heating Installation & Replacement - Melbourne

Melbourne's Best Gas Ducted Heating Replacement Offer! 
Ducted gas heating is the most popular type of heating system for most Melburnians.
The heating units come in two types - internal and external. Most internal heating units would be installed into a ceiling cavity and then be ducted throughout the home to ceiling outlets. External heaters, meanwhile, are generally ducted via the subfloor to floor outlets.
How does gas ducted heating work?
Ducted heating works by drawing air into the heating unit through a centrally located return air grille and heating over a heat exchange which is warmed up via a gas burner. This heat is then directed into the various rooms through the duct network, which, in a domestic home, generally consists of insulated flexible ducting.
Most systems will have one thermostat control to set a desired temperature, and once the target temperature is reached, the gas burner and fan will slowly come to a stop.
Ducted gas heating is designed to heat the home rapidly, so it can be turned on or off depending on when the home is being used.
Like most gas appliances, ducted gas heating units are star rated. The higher the star rating, the less gas the system will use to produce the same amount of heat, which means the more efficient it is.
In Australia, the systems are rated up to a maximum of 6 stars. A 6-star heater can use up to 35% less gas than a standard 3-star heater. This can save the average family real money in terms of their annual heating bill.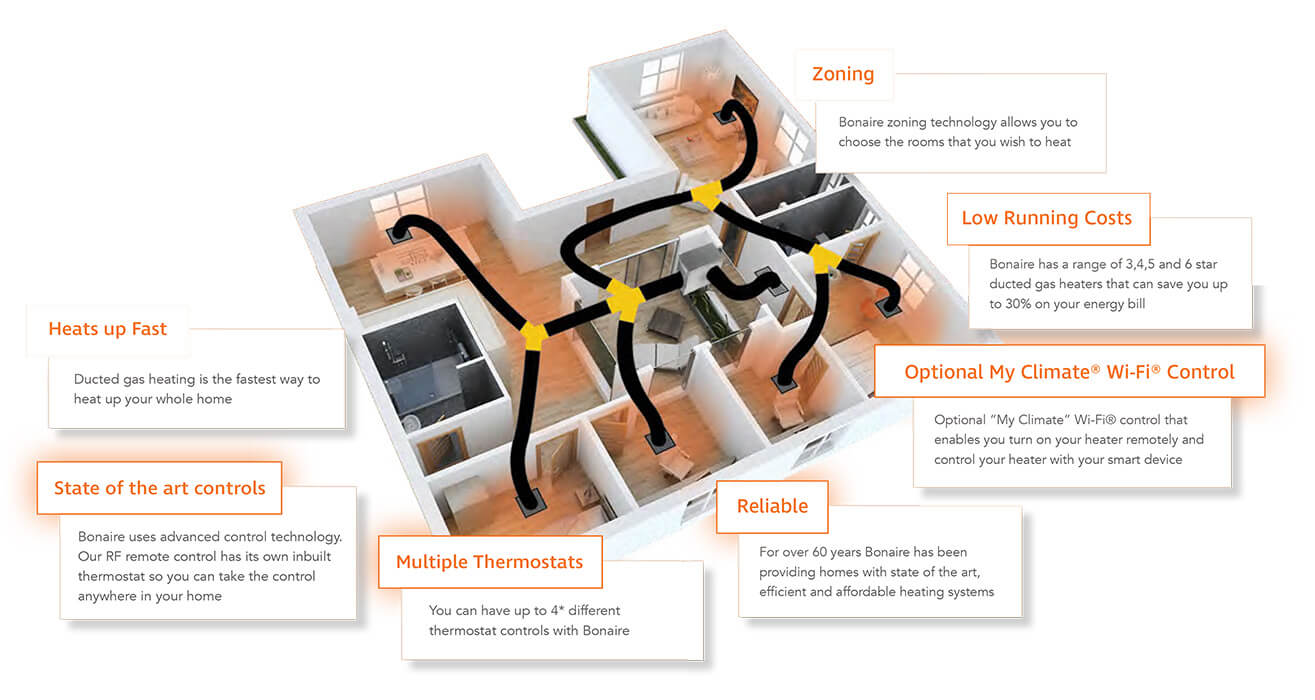 Government rebates for energy efficient systems
The Victorian government offers homeowners rebates to encourage more to switch over and install energy efficient systems rather than settle for standard efficiency systems.
Dale Air is an Accredited Provider under this Victorian Energy Upgrades program, which means we are authorised to create Victorian Energy Efficiency Certificates and provide a financial incentive to our customers who want to change their old inefficient heaters to new high efficiency models.
Please call us at 1300 301 665 for more details about the rebates.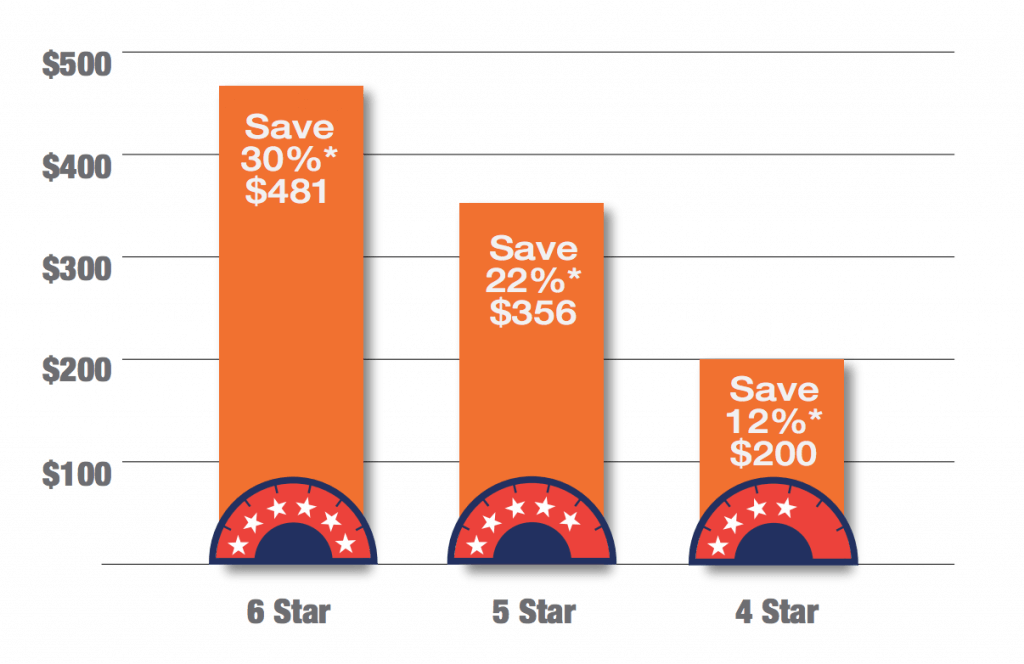 Zoning And Modulating Heaters
Most higher star ducted gas heaters can zone a home, which means that areas of the home can be turned on or off depending on whether they are being used. Zoning will require a modulating heater.
Modulating heaters can work at full capacity or a lesser capacity according to how much of the home is being heated. For example, if the living area is the only place activated, then the capacity of the heater will automatically drop, thus burning much less gas.
High efficiency heaters can also be controlled via multiple controls. This enables the homeowner to not only choose the areas of the home to be heated, but also to have individual control of the temperature in each area.
At Dale Air, we specialise in energy efficiency and we can discuss the various options available for you to heat your home.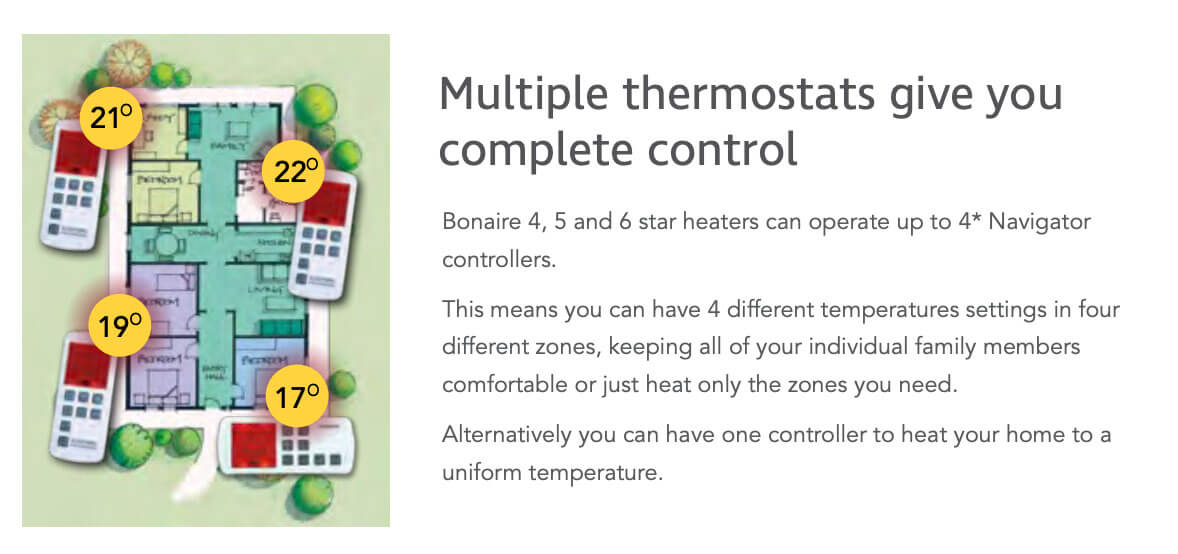 Gas Ducted Heating Replacement
Ducted gas heaters have been around in Melbourne since the 1970s, growing in popularity throughout the 80s and the 90s.
This means that a lot of those heaters are now getting to the end of their life span. However, the ducting that is in the home may be fine, so only the heating unit itself needs to be changed over.
Changing over a 20-year-old heater to a new high efficiency heater can often cut your gas bill in half. If you have a really old heating unit and a rising gas bill, it is time to replace your heater.
At Dale Air, we will help you choose a new heater that suits your budget and requirement. Plus, we can ensure that you get the government rebate as you switch over to a high efficiency system.
Get in touch with us today to find out more.
Why Ducted Gas Heating?
Comfort for the entire home
Ducted gas heating allows you to heat your entire home rather than just one room, setting the perfect level of comfort from one control panel. Ducted heating also means you don't have to walk out of a warm room into a cold one, as the warm air is evenly distributed throughout the home.
Good air quality
Ducted heating systems are designed to provide a stream of high quality air. These heaters do not produce dry air, and, as the central heating unit is normally placed outside the home, there are no fumes or smells inside. The air also passes through filters that trap large particles.
Cost-effective, efficient and environmentally-friendly
Natural gas is considered one of the most energy efficient and environmentally-friendly fuels for heating. Ducted heating systems also come with efficiency ratings now, which allows homeowners to choose their level of efficiency. The higher the level, the more efficient the unit is. This means less energy is used, which translates to lower running costs.
Zoning system
Ducted systems can be enhanced with zoning, where you divide your house into different zones to vary the airflow throughout your home. Through this system, you can choose to turn on the heating for only certain areas or rooms, rather than the whole house. Since you are only using heating when and where you need it, this helps you save on energy bills in the long run.
Aesthetically pleasing
With the main heating unit located on the outside of the home, only the grilles mounted in the ceiling or floor are visible indoors. This means ducted gas heating works well with most interior design and styles, and is not very visually intrusive.
At A Glance - The Benefits Off Gas Ducted Heating:
▪ Comfort for the entire home
▪ Good air quality
▪ Cost-effective, efficient and environmentally-friendly
▪ Zoning system
▪ Aesthetically pleasing
Frequently Asked Questions
The Energy Rating Labelling scheme in Australia is designed to help customers choose energy efficient appliances. The more stars an appliance have, the more efficient it is. And the more efficient it is, the more it can help you save on energy costs.
Up To 24 Months Interest Free Finance
Free Quote - Receive A Quote Within 24 Hours
Visit Our Moorabbin Showroom
Government Rebates Available